Increase productivity with a nationwide push-to-talk network that powers the quickest push-to-talk setup and call times
Motorola WAVE PTX Nationwide Coverage from Lawton Communications
Stay Connected with your team on Radio, Mobile App, or Dispatch Console
Staying in communication with your team is very important, but traditional wireless technologies like conventional two-way radios or cell phones can have issues. Radio systems have coverage issues when you get outside of your immediate area and cellular communications are one-to-one conversations, leaving the rest of your team out of the loop. Your business needs a better way to communicate.
Motorola Solutions WAVE PTX system is designed for the everyday wireless communication challenges of businesses. WAVE PTX gives you access to voice, text messaging, file sharing, GPS tracking, and more – all on one device. With WAVE PTX, you can quickly share important information while keeping everyone informed about what's going on at any given moment during daily operations or emergencies. WAVE PTX features secure group communication, powerful of PTT (push-to-talk) technology, and your choice of devices including radios, mobile applications, and dispatch consoles. The WAVE PTX solution is very affordable with low monthly subscription fees and equipment costs. As an added benefit, WAVE PTX can seamlessly integrate with existing Motorola MOTOTRBO™ digital radio systems.
Motorola WAVE PTX Mobile Application
Mobile Application For iPhone or Android
Communication is critical for businesses of all sizes, but communication solutions are not one-size-fits-all. With today's technology advancements, it just makes sense that solutions have a mobile app for both iOS and Android.
The Motorola Solutions WAVE PTX system has a mobile application so that everyone can be part of the conversation, regardless of the device they carry or network they are using. Users can select one of two client modes: PTT Radio Mode, which emulates the experience of a traditional two-way radio; Standard Mode, which offers full client functionality such as text messaging, call logs and more. Get the speed and simplicity of two-way radio communication on your smartphone without the high cost or complicated process required by other solutions in today's market.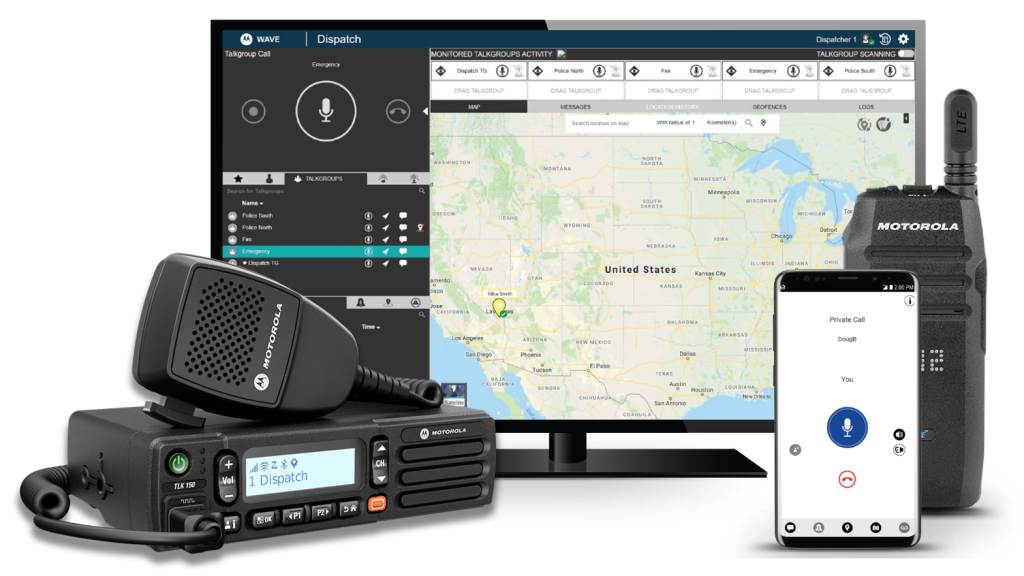 Learn More About Motorola WAVE PTX
Motorola WAVE PTX Dispatch Console
View your Fleet from any internet connected browser
You need to communicate with your field personnel and manage the day-to-day operations. It's hard to stay in touch, especially if you have employees working from different locations. Field operations is a complicated process that requires coordination across multiple channels. In order to keep your operation running smoothly, you need a communication system that can provide instant access to all of the information and tools you need in one place.
WAVE PTX Dispatch makes it simple for you to dispatch workers from any location with just a click of a button. This cloud-based web browser keeps everyone connected so that they can communicate effectively regardless of where they are located throughout their day. This allows you to focus more time on growing your business while managing daily operations.